It's ON!
In the post below are all the entries. Each participant will have up to 48 hours to make their selection in the form of a comment TO THE POST THAT HAS ALL THE ENTRIES at which point it will be the next person's turn. I will stay on top of this as much as possible and PM you on the knittyboard you when your number comes up (I, like a moron, lost the email addies
EDIT: I found them!
). If you miss your 48 hour window to choose an item you will not be allowed to steal (sorry, there's got to be a punishment). When it is your turn you may choose a new item or steal someone else's item. Each item may only be stolen twice and then it is retired and may no longer be stolen. Again I will stay on top of this as majorly as I can to make sure all goes fairly. Happy swapping!
Click the pictures for larger views... IF YOU DARE!
1) The Muppetastic Oscar Night Wrap
by The Lovely Penny Karma:
Penny sez: Hey, it looked better than Charlize's dress!
I say: If you think the anti-fur people are harsh just wait until you meet the the anti-muppet pelt activists. I hear they blew up some Michael's store based off of a RUMOR that they were having a fun fur sale.
2) Grover's Cousin Purse
by Bezzie: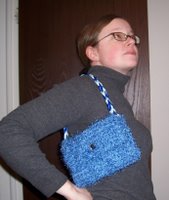 Bezzie says: "I give you my humble submission. Back before I could purl, and when I could obviously manipulate my squares into something a bit different than just a coaster or a dishcloth, I made this fugly purse. I think it's a combo of some type of fun fur and some kind of acrylic. I can't even remember. It's got a satin ribbon handle and a polarfleece lining and droops terribly when you try to carry anything in it. Yipes. Why do I feel the need to give this much detail about my fug??"
I say: You know, the more I look at it the more it seems to be the cousin of PK's shawl...
Penny sez: Yup. Pretty sure this purse and my shawl were mercifully separated at cast-on.
3) Lion Dye-Lot Disaster Sweater
by Lucinda: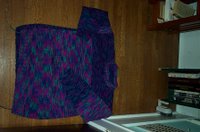 Lucinda says: "Here is my item, a wonderful and delightful sweater. While I technically did not handknit it (I did it on an Ultimate Sweater Machine) it's still pretty darned fugly. Two different dyelots of the same Lion Brand 100% acrylic yarn means that most of the front and sleeves are one shade and the back and the part of one sleeve are another. The two sleeves were knit at a different gauge, so one is shorter than another.
Oh the humanity.
Hopefully someone else will enjoy this."
I say: Disaster can often be spelled L-i-o-n B-r-a-n-d.
Penny sez: Sure. Blame it on the Sweater Machine.
4) The Sweater That Ate Poor CooknKnit
by CooknKnit:
CooknKnit says: "I'm not quite sure what we're doing here, but I like jumping on the bandwagon and being like all the cool kids. May I present to you my fug. Pattern is a lacy cardigan made completely of Patons Divine. I've never worn it other than for that picture. Yep, fug."
I say: It looks like she's been eaten by a bear. Not the worst of the fug but definitely fug.
Penny sez: If you laid it in front of a fireplace and drank a couple rounds of Hot Toddys, I'm sure it would look a whole lot more inviting.
5) Turquoise Terror Scarf
by Cpurl:
Cpurl says: "I won this yarn as a free raffle prize during the lunch break at a Nicky Epstein class sponsored by a LYS. Note: Ms. Epstein had nothing to do with this yarn. It has been sitting on my dresser drawer taunting me until this FUG off came along and brought new meaning to its life."
I say: Ack!
Penny sez: I'm actually imagining this thing taunting you. You poor thing.
6) Scarf Not Even a Dog Could Love
by dkswife: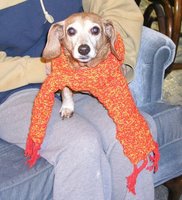 dkswife says: "Attached is my FUG. I tried to sweeten it up a little by wrapping the scarf around my pup pup. Pup pup not included in the swap! ;-)
Need a little detail on the FUG: 100% Cheapo Acrylic in a obnoxious
red/yellow varigant. I truly believe this yarn is much more worse than Red Heart! No crapola! It curls really bad at the edges, and really just looks like, well you know what. Oh, I added some crappy fringe at the ends of it too. There is a story behind this FUG. I knitted this while my mom was going through her colon cancer ordeal last year. Ugly friggin' yarn for a crap-on-a-stick disease."
I say: It does look like the knitted equivilent of colon cancer...
Penny sez: I, I just... I'm speechless.
7) Fourteen Feet of Fug
by Turtlegirl:
Turtlegirl says: "If you can believe it. I followed a "pattern" for this. 3 balls of fun fur in the "Mexican" colorway (yeah, self-striping yarn from hell, too bad it's not a pinata so it can get the beating it deserves) It was my first time following a "pattern" (Cast on 12 stitches and knit every row until you die!) so forgive me for my knitty ignorance."
I say: How can I top the beat it with a stick thing she said?
Penny sez: The winner of this should get a bottle of cheap Tequila to drink away the shame of wearing it.
I reply: Mmm, tequila. Living next to the border has some definate advantages.
Wait! One last one!
8) The Bag I Wouldn't Carry Dog Poo In
by DomesticOverlord:
I say: So, I was cleaning under the bed this morning because I broke the bed with my huge butt and am now afraid that it could collapse at any moment and I found this bag. It's a buttonhole bag in colors that I hate. I made this for someone I no longer speak to, perhaps their taste in colors had something to do with it, I can't remember it's been like years now. Anyway, the point is I have this ugly bag and the fug swap is about to begin so now maybe you can have an ugly bag, wouldn't that be exciting?
Oh, and there's fabric for the lining if you want it (shown in the picture at right being barfed up by the bag). It has pockets already sewed onto it because it's a ripped up scrub top from back when I had a medical career. Yeah, I had a medical carrer, keep your comments to yourself (well, unless you come up with something really funny, then by all means say it).